Because death is momentous, miraculous, and mysterious
Because the cycles of nature help us grieve and heal
Because our bodies are full of life-giving potential
We propose a new option for laying our loved ones to rest.
URBAN DEATH PROJECT
The Urban Death Project utilizes the process of composting
to safely and gently turn our deceased into soil-building material,
creating a meaningful, equitable, and ecological urban
alternative to existing options for the disposal of the dead.
OVERVIEW
The Urban Death Project is a compost-based renewal system. At the heart of the project is a three-story core, within which bodies and high-carbon materials are placed.
Over the span of a few months, with the help of aerobic decomposition and microbial activity, the bodies decompose fully, leaving a rich compost.
The Urban Death Project is not simply a system for turning our bodies into soil-building material. It is also a space for the contemplation of our place in the natural world, and a ritual to help us say goodbye to our loved ones by connecting us with the cycles of nature.
Family, friends, and the neighboring community
are invited to come and take the soil-building material away,
The deceased are folded back into
the communities where they have lived
as the great potential of our bodies to
grow new life is celebrated.
What, exactly, is being proposed for the Urban Death Project?
What is the problem the project is working to solve?
What are the benefits of compost?
Is it safe to compost bodies?
Does the process smell bad?
Why would I want to encourage my body to decompose?
What about natural burial?
How does religion fit into all of this?
What are the next steps for the project?
Check out Digging Deeper for more information.
Katrina Spade is the founder and executive director of the Urban Death Project, a new system for gently and sustainably disposing of the dead using the process of composting. Katrina has focused her design career on creating human-centered, ecological, architectural solutions. Prior to architecture school, she studied sustainable design and building at Yestermorrow Design Build School, with a focus on regenerative communities and permaculture. While earning her Masters of Architecture at the University of Massachusetts Amherst, she received a grant from the Massachusetts Department of Agriculture to build and monitor a compost heating system, a project which helped initiate the Urban Death Project. Katrina earned a BA in Anthropology from Haverford College, and a Masters of Architecture from the University of Massachusetts Amherst. She is an Echoing Green Climate Fellow.
Cartel Urbano, August 25, 2014
"Das Urban Death Project macht den Tod zum nachhaltigsten Schritt deines Lebens"
by Christine Kewitz,
Vice Magazine's Motherlode, August 22, 2014
"How Do You Feel About Being Turned Into Compost When You Die?"
by Adele Peters,
Fast Company's FastCoExist, August 19, 2014
"The Urban Death Project Will Help You Give Back
by Nina Shapiro,
Seattle Weekly, July 8, 2014
VIDEO
Excerpt of future documentary
by Bernadine Mellis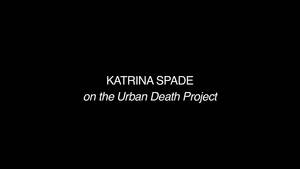 Sign up below to receive periodic updates on the project.
(You can can unsubscribe at any time, and we will never share your contact information.)
The work of the Urban Death Project is powered entirely by donations and grants.
Thank you!
(Please note the optional message can only be 250 characters long.)